The extraordinary interest of travelers to the existence of the Komodo dragons who are locally called ora is a valuable alluring factor that amplified by its superb national park.
The Komodo National Park was listed as UNESCO's World Heritage Site in 1991. It is home to fascinating wildlife, both on land and underwater. The park consists of Komodo Island, Rinca Island, Padar Island and numerous smaller islands around them.
Labuan Bajo is known as the city of sunset. You can find plenty of vantage point to enjoy every end of the day with a spectacular sky.
There are some interesting destinations that you can discover inside the city. The Mirror Cave is located only 4 kilometers away from Labuan Bajo. This cave was founded by Dutch archaeologist in 1951, who concludes that Labuan Bajo was once located under water.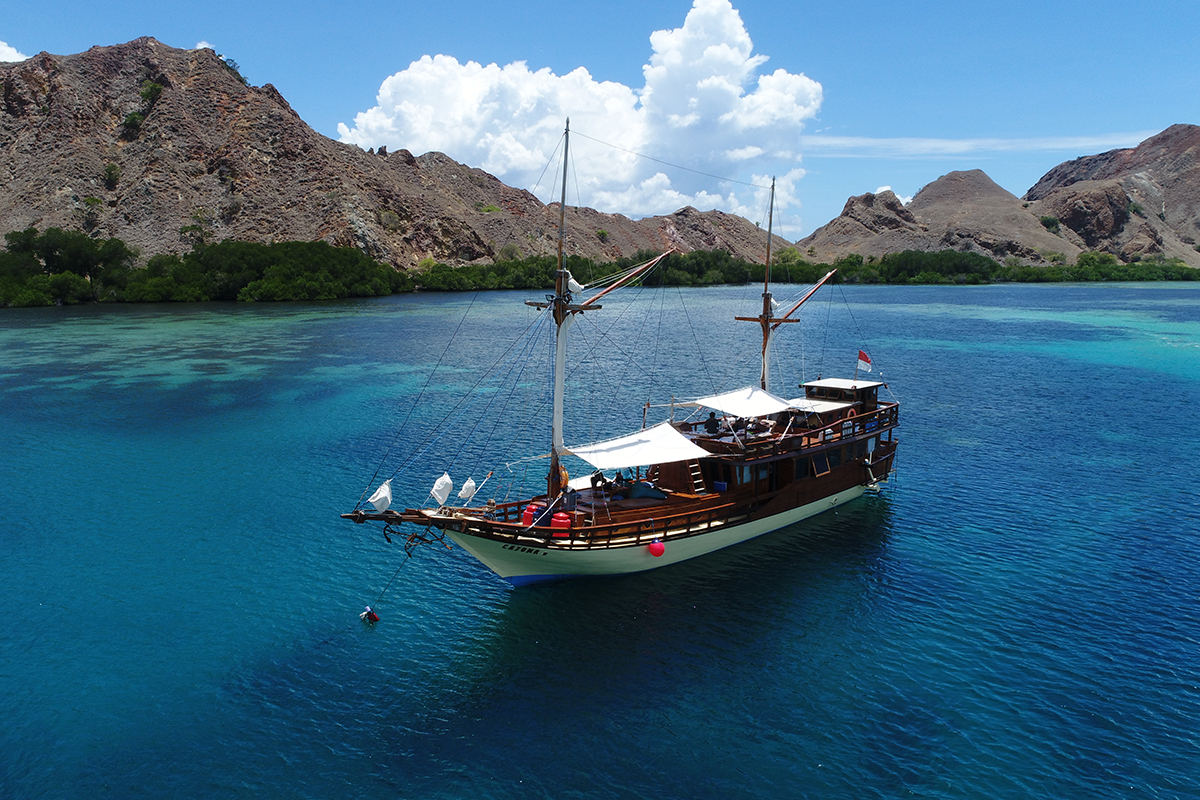 The local name for the cave is Goa Batu Cermin. In some parts, you can see some stones with reflective character, thus become the name of this natural wonders.
Another stunning wonder you might also want to check out is Rangko cave. Have you ever swim in a cave-lake before? Here's your chance!
You can also explore the paths to Cunca Rami and Cunca Wulang canyon waterfall!
Bukit Cinta, Puncak Amelia, and Puncak Silvia are all vantage points, not far away from Komodo Airport in Labuan Bajo. You can enjoy some spectacular view of the island and the open sea at sunset.
For the culinary feast, you can head right to Kampung Ujung and experience the delicious local food center for dinner time in Labuan Bajo.
Labuan Bajo becomes more romantic with the growth of that ideal holiday spot. Wooden cottages with thatched roofs camouflaged by shrubberies and towering trees up in the sloping township, overlooking an idyllic harbor, is the perfect elements of an unforgettable experience.
For some adventurers, Labuan Bajo can be that ideal getaway. With choices of land and sea to conquer, it is no wonder that Labuan Bajo is seeing more and more visitors coming every year. Try the liveaboard experience, where you get to live on board for several days, to visit gorgeous islands and dive into the stunning wonders of the ocean.
Labuan Bajo is accessible by air, land, and sea. Its favorable location on the Island of Flores and entry port to the Komodo islands make Labuan Bajo a potential growing destination, aside from its rich agricultural potentials.
By Air from Bali / Lombok / Jakarta / Kupang / Maumere / Ende

Flying to Labuan Bajo is possible for the Komodo Airport is open for operation. There are more than Ten flights per day, which is fly from Bali, from Lombok, From Jakarta, From Kupang, From Makassar, From Maumere, and from Ende. The flights operates by Garuda airlines, Wings Air , Batik Air, Nam Air, Transnusa, and Air Asia.